Overview
Large leg length inequalities can be treated by staged lengthenings or by simultaneous ipsilateral femoral and tibial lengthenings. Additionally, lengthenings can be combined with appropriately timed epiphysiodesis in an effort to produce leg length equality. Staged lengthenings are often used for congenital deficiencies such as fibular hemimelia, in which 15 cm or more may be needed to produce leg length equality. We typically plan for the final lengthening to be completed by age 13 or 14 years, and allow at least 3 years between lengthenings. Lengthening of both the tibia and femur simultaneously requires aggressive therapy and treatment of soft tissue contractures. Curran et al[57] reported the need for surgical release of soft tissue contractures in 3 of 8 patients treated with simultaneous ipsilateral femoral and tibial lengthenings. Lengthening over an IM nail can be done in an effort to decrease the amount of time the fixator needs to be worn and to prevent angular malalignment. This technique requires that the patient be skeletally mature and it carries a higher risk of osteomyelitis (up to 15%). Additionally, if premature consolidation occurs, a repeat corticotomy is more difficult.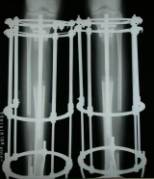 Causes
From an anatomical stand point, the LLD could have been from hereditary, broken bones, diseases and joint replacements. Functional LLD can be from over pronating, knee deformities, tight calves and hamstrings, weak IT band, curvature in the spine and many other such muscular/skeletal issues.
Symptoms
Often there are few or no symptoms prior to the age of 25-35. The most common symptom is chronic lower back pain, but also is frequently middle and upper back pain. Same-sided and repeated injury or pain to the hip, knee and/or ankle is also a hallmark of a long-standing untreated LLD. It is not uncommon to have buttock or radiating hip pain that is non-dermatomal (not from a disc) and tends to go away when lying down.
Diagnosis
There are several orthopedic tests that are used, but they are rudimentary and have some degree of error. Even using a tape measure with specific anatomic landmarks has its errors. Most leg length differences can be seen with a well trained eye, but I always recommend what is called a scanagram, or a x-ray bone length study (see picture above). This test will give a precise measurement in millimeters of the length difference.
Non Surgical Treatment
You and your physician should discuss whether treatment is necessary. For minor LLDs in adults with no deformity, treatment may not be necessary. Because the risks may outweigh the benefits, surgical treatment to equalize leg lengths is usually not recommended if the difference is less than one inch. For these small differences, your physician may recommend a shoe lift. A lift fitted to the shoe can often improve your walking and running, as well as relieve back pain caused by LLD. Shoe lifts are inexpensive and can be removed if they are not effective. They do, however, add weight and stiffness to the shoe.
bestshoelifts
Surgical Treatment
Limb deformity or leg length problems can be treated by applying an external frame to the leg. The frame consists of metal rings which go round the limb. The rings are held onto the body by wires and metal pins which pass through the skin and are anchored into the bone. During this operation, the bone is divided. Gradual adjustment of the frame results in creation of a new bone allowing a limb to be lengthened. The procedure involves the child having an anaesthetic. The child is normally in hospital for one week. The child and family are encouraged to clean pin sites around the limb. The adjustments of the frame (distractions) are performed by the child and/or family. The child is normally encouraged to walk on the operated limb and to actively exercise the joints above and below the frame. The child is normally reviewed on a weekly basis in clinic to monitor the correction of the deformity. The frame normally remains in place for 3 months up to one year depending on the condition which is being treated. The frame is normally removed under a general anaesthetic at the end of treatment.